Woodward Middle School
Presents
WORLD CULTURE FAIR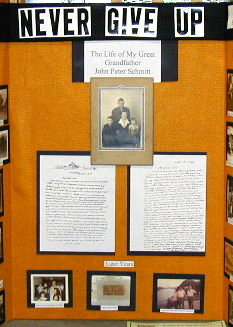 John Peter Schmitt
By Alex Frickleton
My great-grandfather John Peter Schmitt lived a life that is today immortalized as a classical immigrant story. Throughout his life, he continued to work hard, and never backed down from his dreams. He went from being a milk deliverer in a small house in Polch, to the Town Marshall in Scott City, Missouri. His life was filled with struggle, but he never gave up hope that he could make a difference. His enlisting in the United States Army showed that John was a true American, and would forever be a loyal citizen. His hard work ethic has been passed through three generations, and has changed the lives of many, including all those who knew him and those who are related to him. He, like so many other immigrants, faced the seemingly impossible odds, but strove to become a respectable American citizen and after many years of peril, accomplished his goal.
Polch, Germany was the birthplace of John Peter Schmitt on the date of March 27, 1903. He was the eldest child of Peter and Elizabeth Schmitt, who later had seven other children. Johnís younger siblings were spread apart by many years (Herman, Peter, William, Elizabeth, Molly, Matthew and Katharine). His extended family was made up of poor peasants who owned almost nothing except for their barn, house and a small plot of land. John was expected to aid the familyís financial needs, so after he learned how to read and write he started delivering milk. This job helped him to realize the value of hard work, and formed one of his major outlooks on life. He slept near the barn with three of his siblings and because of this began to love animals.
Religion, as with most German families, played a large role in the every day life. Sunday was a very serious day, and was the only time other than holidays when his family dressed up. They had very strict rules about church, and were devout Roman-Catholics. Even Christmas was a solemn day. On Christmas, everyone went to church, and no presents were given. A week after Christmas, on January 6th, Three Kings or Epiphany was celebrated. This was the day when all gifts are given, but because of the poverty his family was in, not many presents could be afforded.
As a boy, he loved to play soccer, and as he grew up, began to play on a professional team. The team he played for, the Polch Soccer Team, was one of the best in Germany. They won the "state" championships, and were fairly well known across the nation. Brothers Steel, an American based steel company, heard about John and his soccer team, and offered him a job in America, providing he play soccer on their Industrial League team. John jumped at the opportunity, and decided to go to America. His decision was based upon several different factors. Foremost, he wished to get out of the German depression, and also wished to free himself and all Germany of the Nazi influence.
John boarded the USS St. Louis on May 3rd, 1929 and after a 10-day second class voyage, arrived in New York on May 13th. There, like most immigrants, his name was changed during the interrogation. John caught the change, and told them that his name was spelled Schmitt, not Schmidt. After a short argument, his name was kept Schmitt. He left New York, and traveled to St. Louis, the base of Stoop Brotherís Steel. On the way, he worked for a small farm in Pennsylvania, dug ditches, and tried to do any other honest, hard work he could find. In late 1929, he reached St. Louis and with the money saved, rented a room in a boarding house located along Virginia Avenue. There he met his wife to be, Pauline Lesing. They married in 1931, and in 1934 bought a small house in Illmo, Missouri.
Unlike most German-American immigrants, John did not try to discard his German heritage. He combined American and German culture, and made a very unique way of life. Like in Germany, he wore blue-collar clothes on weekdays, and wore a suit to mass on Sundays. He celebrated American holidays including Halloween, Thanksgiving, and Independence Day and John strongly believed in law and order. This belief was due to partly from his German heritage, but was mostly due to his honest work ethic and his belief that every man should work his hardest.
John eventually left his job with Stoop Brothers Steel, and leased a small service station. There he sold gas, Coca-Cola and Pepsi-Cola products, Avalon products, cigarettes and many other service items. He also distributed the town newspaper, The Illmo Jimplicute. In 1935, he had his first child, Donald Peter Schmitt. Don was very close to his father, and would often go fishing and hunting with him. Don helped his father deliver the paper, and tried to learn every route. In 1939, John had another child named Delores. During Johnís middle years, he enjoyed playing card games including poker, rummy, and chess, but he especially loved baseball.
The Schmitt family motto is "Alles man for dien fadderlain" or "Every man for his country", and in 1944 John was given the chance to fulfill the motto. John went to the recruiting center, but was denied the opportunity to fight because he had not been an American citizen long enough. John went to his friend, a judge, and asked him for a recommendation. With this recommendation he was allowed a spot in the Army. At the age of 40, the last possible year you could enlist, he joined the United States Army. He left for Camp Claiborne, Louisiana and while there, his wife had another child. They named her Mary. In January 1944, John left for combat in Europe.
In World War II, John served in the 693-Engineer Battalion. They fought, built roads, and interviewed prisoners. He fought in what most think as the four largest battles of the war; the Battle of Normandy, the Battle of the Bulge, the Battle of Saint Low, and the Battle at the Remmagen Bridge. He did not arrive at Normandy until the third day, but still took heavy fire during the final day of the battle. In the Battle of the Bulge his right ear was frozen and had to be amputated. While fighting in Germany, John stayed with his family and bought them food. After the war John interviewed misplaced persons, and unlike Japanese, was not discriminated against because of his German heritage. About 5.5 million or one-third of Allied troops had German background.
After the war, John returned home and had another child. They named her Alice, born in 1947. John continued to work at his service station, but in 1955 became the Town Marshall of Scott City, Missouri. While being the Marshall, he helped catch two bank robbers, and had his picture taken with his partners. In 1962 Johnís eldest child Don married a woman named Wilma Esther Sabo. They had a child who they named after John Peter about ten months later.
John loved being a grandparent, and was very close to his grandson, John. The next July, another grandchild was born. Her name was Stephanie (my mother). John enjoyed doing activities with them. He would set them on his lap and peel an apple for them to share. One time he was going to take them out to get ice cream. Grandson John was throwing rocks around Stephanie, and hit her on the head. When John found out, he was very angry, and took Stephanie for ice cream alone in his Volkswagen Beetle.
During his later years, three more grandchildren were born who were named Erika, Michelle and Peter. He was very close to all of them, but they were too young to remember him very well. John always kept in touch with his family in Germany and in 1974 Don and Wilma took John and Pauline to Germany. There John visited his family and went around the country. Sadly, two years later he died of colon cancer.
John Peter Schmitt was always an honest, hard worker, and throughout his whole life never stopped working. He proved that you do not have to be rich to be a great person and live a fulfilling life. By working hard and honest his entire life, he helped shape a family and turned a small dream of being an American into a reality. He created the base for a great family by using his dreams and hard work ethic together. John Peter Schmitt taught a great lesson. Never give up.