Woodward Middle School
Presents
WORLD CULTURE FAIR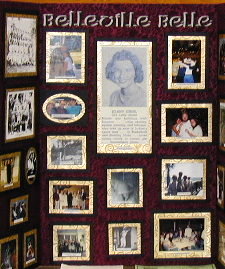 My grandma, Jo Ann Zindel
Cassy Koller
Flying home from her family reunion in Florida, my grandma, Jo Ann Zindel, thought about how much her life had changed over the years. Born during the Great Depression, traveling was only a dream for her when she was a child. Her acquired strength would also have been hard to imagine in a time when women were taught that the most important thing they could do with their lives was to get married and raise a family.
Born in 1932 to Charles William Zindel and Anna Kelly, Jo Ann Zindel learned at a young age that families had to make compromises in order to survive in financially trying times. Her first home was in Belleville, New Jersey where she lived with her family: her parents, sister Regina, and brother Charles. After the birth of her last brother William, the family had financial difficulties which forced them to move to Nutley, New Jersey to live in the home of Jo Annís grandmother. At the age of ten, Jo Annís family moved back to Belleville, New Jersey until she was 14, when they once again had to move into her grandmotherís home. The family was finally able to move into their home in Belleville, New Jersey where Jo Ann attended high school.
As a child, Jo Ann was taught to appreciate the simple things in life. Since money was tight in the family, the children entertained themselves by jumping rope and playing stickball and basketball. Because of their modest lifestyle, Jo Ann learned how to stretch a food budget. According to my mother, "Your grandma knew how to make the most wonderful soups because that was often all that they could afford to eat."
Since she moved from house to house when she was little, Jo Ann went to many different schools including Washington Street School, #5 School, #3 School, Nutley Junior High School and Bellville High School. Jo Annís favorite subject was English because she loved to write. After school, Jo Ann participated in many sports and clubs such as year book, girls basketball, bowling, softball, and roller skating. She also loved watching movies. During her high school years, Jo Ann worked as a bookkeeper for a hardware store.
At age 19, Jo Ann Zindel was married to Gerhardt Carl Stichling on September 6, 1952. Gerhardt and Jo Ann had their first child, Debra Jo Stichling, on March 12, 1954. Three years later Jo Ann gave birth to their second child, Glen Carl Stichling, on March 2, 1957. The last of three children was my mom, Heidi Ann Stichling, born on November 14, 1961. Heidi was named after her sisterís favorite book and had gorgeous blue eyes. After Heidi was born, they lived in Roseland, New Jersey. With the growth of the womenís liberation movement, Jo Ann felt she wanted more out of life. She saw that women could still raise a family while developing their lives further. Jo Ann taught her daughters that they could become anything that they wanted to become. At times, this message was conveyed in unusual ways. "I remember when I was young and my mother use to make my friends and I dance around to the song, íI am Woman, Hear Me Roar.í It drove me crazy," my mom told me.
Over the years, Jo Ann helped her husband start his own company. She worked in the company as a secretary and bookkeeper for many years and helped to make the business very successful. Then, in 1982, with the sudden death of her husband, Jo Ann, with the help of her son, Glen, took over the business. At its high point, Jo Ann and Glen had approximately 200 employees working for them.
Traveling was a major part of the Stichling family. They traveled to such places as Greece, Ireland, England, Wales, Italy, Germany, Switzerland, Austria, France, Guatemala, Mexico, Panama, Costa Rica and Canada. Travel was something that Jo Ann truly enjoyed. After her husband passed away, she traveled with the rest of her family to keep them closer together. In addition to the countries above, Jo Ann has been to Japan, China, Venezuela, Spain, Finland, Holland, Sweden, Norway, Greenland, Mongolia, and Denmark. Ireland proved the most important country that Jo Ann and her family visited because her mother was Irish.
After going to Ireland a few times, Jo Ann began college at age 47 and graduated at age 50. Going to college was something Jo Ann always wanted to do but she waited until her three children left to live on their own before she actually started. At Caldwell College, an Irish college in New Jersey, she felt as if she was home because her mom was Irish and it really meant something to her. It was because of the strength and confidence that she gained in college that Jo Ann was able to become a successful businesswoman.
In Jo Ann Zindel Stichlingís life, she was able to achieve many different things. She raised a wonderful family, traveled, and graduated from college at age 50. Jo Annís strength and courage helped her overcome many adversities and made her the successful woman she never dreamed was hidden inside the little girl from Belleville, New Jersey.