Woodward Middle School
Presents
WORLD CULTURE FAIR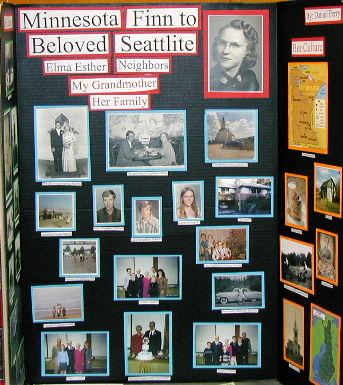 Daniel Perry
My grandmother, Elma Esther Neimi, grew up a true Finn and was transformed into a patriotic American. Growing up on a poor farm in Minnesota with six brothers and sisters, she learned to appreciate everything that she had. She managed to grow up, move from the Mid-west to Northwest, and succeed in every way raising three children. Even now, she lives a happy and prosperous life. When I listen to her past adventures, I cannot help but admire the way she carried her life.
Grandma was born on July 24, 1932 in a small four-room house in Minnesota. She lived in a small Scandinavian community. She was the fifth of seven children in the family. Her father, Jacob Neimi, had emigrated from Finland in 1910. Her mother was raised by Finnish emigrants. Since she was raised on a small crop farm, she learned how to take care of herself and the meaning of being buried in chores. Being responsible for such chores as milking the cows, bringing in firewood, pumping the water, and taking care of the farm wasnít easy for Grandma. She had to wake up early to complete her chores and quickly learned to treasure playtime. In fact, Grandma became best friends with her brothers and sisters. They never fought. In order to complete their chores, they had to work together.
Of course cows provided the most important source for food and money in her family. Every week, the milkman would come around to all of the farms and collect milk. In addition, cows provided most of her familyís meat which they canned in summers. Nearly all of her familyís food was canned. During the summer, her and her family spent a great amount of their time canning fruit, meat, vegetables, and whatever else needed to be preserved. Since they lived in Minnesota fruit was very rare. In the summer Grandma used to go out into the woods and look for berry bushes. The berries that they found would be canned and later used on desserts.
Grandma always had home cooked meals and received most of her food from the farm. One of her favorite breakfasts included oven pancakes, a traditional Finnish breakfast served with cherry sauce. Since she lived in a small community everyone knew each other, and visiting time on Sunday was highly treasured. When someone was visiting, the host was expected to treat the guest with complete hospitality. They were to be fed, made comfortable, and entertained. Visiting time was always after church on Sundays and was almost never planned in advanced.
Besides worrying about proper hospitality, Grandma also had to keep clean without running water in the house. To keep clean her family had their own sauna which they used quite frequently. It is a traditional Finnish custom to bath in a sauna, which my grandmother did with her family. First, they would heat up the rocks in the sauna. Next, they would pour water over the rocks to form steam and additional heat. Once the temperature of the sauna was to their liking, they would soap up and splash water on each other, either standing or sitting. They were extremely clean due to the fact that they could splash clean water freely and the steam would open up their skin pores. In their family, the girls would always go into the sauna first with the mother. They were followed by the boys and the father. This way the girls could warm the sauna up with a little steam and the boys could make the sauna very steamy and extremely hot. Grandma used to joke about how the Swedes and Norwegians were never clean because they didnít have a sauna. Besides keeping up with a complicated house system she had to attend school everyday.
Grandma always said how lucky people are today. They go to nice schools. They have janitors that clean up their messes. In addition, they have many wonderful teachers. When she started going to school in kindergarten, her school only had two rooms and a basement. There was no janitor, one teacher, and only one classroom. Everyday she and her classmates had different chores or duties to accomplish because there was no janitor. Just like home Grandma stacked wood, tended the wood stove, and swept the floors. Aside from all the chores, the school did have a library with many interesting books which she enjoyed reading. Her schoolhouse also had indoor toilets which was a relief for my grandmother because she didnít have to walk out to an outhouse. Grandma walked all the way to grade school everyday and sometimes it meant a walk in the snow. Grandma first started going to high school in ninth grade. She graduated as valedictorian in a class of forty-six students. Her high school was twenty-five miles away. Luckily there was a school bus. Even with the school bus she had to walk a mile to the highway during the winter because the bus couldnít make it down her country road. Within two months of graduating from high school, Grandma was out the door and on the move. She decided to move into the city of Chicago, where, at the time, three of her sisters lived.
Grandmaís lifestyle changed dramatically when she moved to Chicago. She received a factory job at Motorola, where she was on an assembly line.. After living in Chicago for a short while, Grandma met her future husband, Vester Neighbors. At the time, Vester lived in the same apartment building as she was living in. Since Chicago wasnít always a safe place, her sisters wouldnít let Grandma date Vester alone until they all knew him extremely well.
Finally after dating for a while, Grandma and Vester decided to marry. They chose a church in Minnesota where Grandma grew up to have the wedding ceremony. Within a week of their wedding, they were back in Chicago working. A little over a year later, their first son was born, Michael. At this time, Grandma had to take time off work. This caused Grandma and Vester to run short on money. With my grandmotherís determination and strength, they were able to pull through and have another baby boy named Loren two years later. Due to Chicagoís heavy pollution, Michael started having problems with his lungs and the doctor advised them to move out of Chicago. Moved to Bollingreen, Kentucky where Vester had grown up. This idea didnít work out to well because jobs so scarce they couldnít find any decent jobs.
After deciding that Kentucky wasnít working out for them, they decided to move to Seattle in order to be closer to Grandmaís two sisters and her mother in Bend, Oregon. When Grandma first moved to Seattle they moved around several times because they couldnít find a nice house in a good neighborhood. Two years after moving to Seattle, she had another child, my mother, Karen. After seven years of living in multiple neighborhoods, Grandma finally settled down in a nice neighborhood in Des Moines, right next to Seatac. In Seattle, Vester was hired at a service station. He worked there for over twenty-five years. At first, Grandma didnít work outside the home but she later found a job at Boeing. At the time she received the job at Boeing, her family was struggling financially. Vester had a work related injury where his fingers were seriously damaged and was out of work. Fortunately, Grandmaís boss at Boeing gave her many opportunities to work overtime. At this time people from their church donated Christmas presents for each member of her family. Despite these hard times Grandma was able to pull her and her family through the financial crisis.
Her children grew up, went to school, and succeeded in every way. She and Vester both worked five days a week. Grandma found a job at Sears after Boeing and she worked there until she retired over twenty years later. After Vester retired from the service station, he began to work at a body shop where he occasionally works today. Michael and Loren work today as supervisors at the Auburn Boeing plant. Karen graduated from Washington State University right after high school and then went to work at Genera, a clothes design company. After she left Genera, she waited a few years before getting a job at Expeditors where she is currently working. Grandma is very proud of all of her children and there success in life. Even though each of her children is successful, she admits that she would have preferred children later in her life.
Recently, Grandma lives a simple but happy life. She spends most of her time around her house. She stays in close contact with her family and friends. She and Vester love to take camping trips in the summer. Together her and Vester try to get exercise by taking many walks especially while camping. Occasionally Vester works at the body shop to earn some extra money, which they spend on special occasions.
As I listened to my grandmotherís stories about her life, I cannot help compare her childhood to mine. She was able to grow up on a farm in a small community in Minnesota. Whereas now I am growing up in a household with almost no chores and some responsibilities. Sometimes I feel like I have too much. Grandma carried herself through all sorts of trouble including moving from Minnesota to Seattle in a lifetime. I cannot see how she is so happy and loving, and I admire the way she has done things and how she managed all the strength that is required for such a busy life.