Woodward Middle School
Presents
WORLD CULTURE FAIR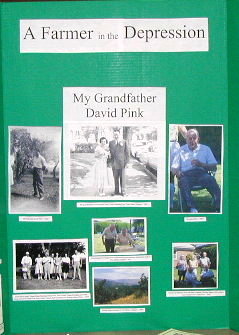 Farmer in the Depression

:

Dustin Heins

Ms. Deines

March 21, 2002

The defining event in David Pinkís , my grandfather, life was the Great Depression. When he was just a few years old the stock market crashed and the American economy collapsed. Watching his family struggle financially during this time shaped his perspective on money and life.

My grandfather was born on December 17th 1924. At the time of his birth his parents, John and Essie Pink, owned a small farm near the rural community of Buffalo Center, Iowa. David was the youngest of four children and he was the only boy. Every member of the family was required to help out around the farm. David was still able to find time to play with marbles and other toys when he was not working. With his sisters, Vivian, Dorothy and Helen, he played cards and board games. Since he was the youngest, he usually lost. His favorite childhood memory was riding his bicycle. Riding his bicycle around the farm was the closest thing Grandpa had to freedom.

David lived on two different farms while growing up. When Grandpa was born he lived on the farm his parents owned. The family farm grew crops of corn, oats, and soybeans. Grandpaís family didnít have a tractor until 1937, before that all of the plowing was done by horses. During the Great Depression his family didnít earn enough money from the farm and were forced to sell it. David along with his parents and siblings moved onto the farm owned by my great-great-grandfather, John Pink, who had immigrated from Ireland years before and started a family in the new world of opportunity. One of Davidís main responsibilities on both farms was to help care for the pigs, cows and chickens.

With most of their time spent working on the farm and studying for school, the Pinks didnít have much time for family recreation or leisure activities. When time allowed, they joined together and listened to the radio as a family. The rest of their time was divided among working, eating and sleeping.

Another activity that consumed Davidís time was school. David attended public school in Iowa for twelve years. His family didnít own a car or a truck so he and his sisters either walked, rode the bus, or caught a ride with neighbors in order to get to school. After graduating from high school, he attended one year of college at University of Iowa in Iowa City. Money was tight throughout Davidís school years.

David learned how to spend money and what to spend it on in the midst of the Depression. He was only four and a half when the stock market crashed but he seemed to realize that something serious had happened . Davidís perspective on life and money was shaped by an America using money and resources carefully and he continues to live life very conservatively to this day. Watching his parents struggles to keep the farm and to keep food on the table had a significant impact on his life. It taught him to be very careful with his money.

My great-great-grandfatherís farm was not located in the area of the Dust Bowl luckily. If it had been their crops would have shriveled up in the draught and gotten blown away with the dust storms. Even though they were 150 miles from that region, Davidís family farm crops were still slightly impacted by heat and less water. For his family the effects of the Depression didnít ease until the beginning of World War II.

Davidís military career began in World War II, 1944. He was stationed in the Philippines serving in the military police as a soldier. My grandmother agrees strongly with United States decision to drop the atom bomb on Japan.. Mainly now because Grandpa would have been in the first wave to land on the Japanese coast if the war had continued. I was one presidential choice away from never being born. As it turned out David was alive and ready to leave the army in 1946.

After his military career, my grandfather worked on several farms in Iowa for a number of years. Davidís sister, Helen, moved to the Dalles, Oregon to teach school. While visiting his sister, Grandpa met one of her good friends, Barbara Creighton. They met and became close friends. He took her to movies. They went on picnics and took drives together. They fell in love and decided to marry. In 1951, he moved to the Pacific Northwest and married Barbara.

Their first child was my uncle Casey who was born in 1955. He was the oldest of their three children. He married Jody Cuzzetto in 1974 and they had two children, Josh and Jenny. David and Barbaraís second child, Joan, was born in 1960. She married Abdullah Reza Chaichi in 1980 and had two children, Farrah and Ryan. Grandpaís youngest child was my mother, Dorothy. She was born in 1963 and married my father, Tim Heins, in 1984. They had two sons; I was born in 1988 and Brenton was born in 1992.

David and Barbaraís children grew up on the family farm, a cherry orchard they purchased in 1954 and still on today. My Uncle Casey and his family have taken over the running of the orchard.

The orchard was a nice place to raise a family because it gave the children an opportunity to work and learn how to be responsible. The children were able to help in the orchard, take care of the barn animals, and when they were older, drive the tractors. The biggest job they did was setting up the irrigation system for watering the trees.

In the evenings they would eat together and sometimes have special activities. Even though they didnít have much free time, they did have some special nights when they played cards or worked on jigsaw puzzles. A favorite activity was having hot dog roasts in the wood furnace or on an open fire out in the orchard during the pruning season. On free afternoons they went to the park and have a picnic supper.

David is a great man who lived through two of the difficult times in Americaís history. My grandfather has also successfully started a family and to this day works hard on the cherry orchard all year round. I admire my grandfather for what he has lived through and what he has accomplished in his life.

Bibliography

Farah, Mounir. "Depression." World History. New York: Glencoe, 1999. pages 776-777.

Fitzgerald, Thomas. "Ireland." Lands and Peoples. Danbury, Connecticut Grolier

Education. 2001. pages 65-78

"Ireland." Junior World mark Encyclopedia of World Cultures. Gall, Timothy. Detroit:

V.X.L. 1999. 181-188

Pink, David. E-mail interview. Dec. 30, 2001.

Sobel, Robert. "Great Depression." World Book. Chicago: World Book inc, 2000. pages

338-343.