Woodward Middle School
Presents
WORLD CULTURE FAIR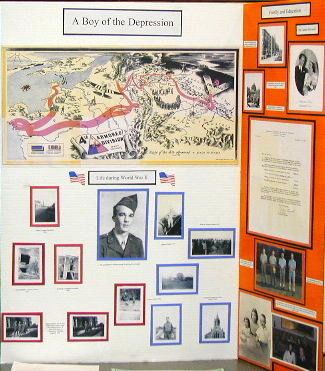 A Boy of the Depression
Keith Mowell
Ms. Schmit
March 21, 2002
My grandfather, Francis Joseph Morton, was born in Spokane, Washington in 1920. He is an Irish-Catholic who grew up during the Depression. His father owned a bank in Spokane, which went out of business in 1932, three years after the Depression started. His family struggled through the Great Depression, but they were fortunate in some ways. Soon after World War II was declared, my grandfather was drafted and fought for three years in the United States Army. After World War II, he was able to go to college and medical school. He then practiced medicine as a family doctor in his hometown of Spokane. Today, Dr. Frank J. Morton and my grandmother Arleen Morton are retired in Spokane. He led a fascinating life: beginning with a middle class childhood, struggling through the Great Depression during his teenage years, serving as a young man in World War II, obtaining an education, achieving a quality life for himself and his family, and demonstrating a commitment to high moral values.
Frank Morton's grandparents (my great-great grandparents), Edward Morton and Rose Connelly, were both born in Ireland, children of Irish-Catholic potato farmers. During their youth, Ireland was recovering from the Great Irish Potato Famine of 1845 – 1851. The famine was brought on by a blight, which attacked the potato plants' roots, rotting the potato tubers, and killing the crops. Over 800,000 Irish people died from starvation and diseases such as typhus, dropsy, and cholera; and over one million people immigrated to America during this time.
Edward and Rose Morton married in Ireland. And while the economy had improved after the potato famine, unemployment remained very high. Edward and Rose Morton, not seeing much of a future in Ireland, decided to immigrate to the United States America, the "land of opportunity". In 1880, they landed at Ellis Island, New York. At the time, the Homestead Act of 1862, virtually gave away land to encourage immigrants to settle the western states. Edward and Rose received a parcel of land from the government on the Spokane River near the Washington – Idaho border where they ran a hotel and ferry across the Spokane River. They had three children: Alice, who died at age 22; Joe, who became an attorney in Washington D.C., but had no children; and Edward, my great grandfather.
Edward William Morton, my great grandfather, owned Farmers Mechanic Bank in Spokane, Washington, which went bankrupt in 1931 and eventually closed its doors in 1932. His was typical of the many small banks across America that provided responsible banking services to their communities. He took his responsibility extremely seriously, to the point of great personal hardship.
The stock market crash of October 1929 marked the beginning of the Great Depression. Like many smaller banks, Farmers Mechanic was forced into bankruptcy in 1931. In 1932, the Bank Holiday was declared by the newly-elected President Franklin Roosevelt to stop the frantic withdrawals that were making banks insolvent across America. However, it came too late to save my great grandfather's bank, and it closed its doors forever in 1932. But for three years my great grandfather gave almost everything he owned to payoff the customers of his former bank.
After his bank finally closed, my great grandfather, based on his reputation and connections within the banking community, landed a government job as a bank auditor at the Reconstructive Financial Corporation (RFC) in San Francisco. After working several years, he was suddenly fired when it was discovered that he was a "registered Republican." (At that time political patronage was a well accepted practice, and it paid to belong to the party in power.) Once again out of work, the family moved back to Spokane, where, despite jobs being scarce, my great grandfather was hired by the Farm Credit Association in a low paying job. In order to pay the bills, the family took in boarders, and my grandfather began his first job as a paperboy. He earned $1.00/week and felt very lucky to have a job. Not long after the move back to Spokane, my great grandfather's health failed and he died in 1938 at age 59 while my grandfather was a senior in high school.
My grandfather attended Gonzaga High School in Spokane from 1934-1938. Both he and his brother received scholarships. He earned "pretty good grades." He loved sports, playiing golf and basketball, and serving as the captain of the basketball team. After high school, my grandfather's brother joined the priesthood, which put him through college. My grandfather left for Seattle after high school to find work. He needed to support not only himself, but also his mother. Working at Marine Hospital as a front desk clerk, he was able to send half of his paycheck home to his mother, who, over time, was able to pay off the family home.
The Great Depression was hard on the Morton family. They suffered great financial hardship but the family was very close and supportive of one another. As a result, my grandfather has a very strong commitment to family and was always there for his mother and brother (and is still there for us). His experiences during the Depression also left him with a sense that nothing should be wasted, and that one must work hard and do a good job.
The United States was devastated after the Japanese attack on Pearl Harbor on December 7, 1941. One hundred eighty-eight U.S. Navy planes and 6 battleships were destroyed, 10 other battleships were badly damaged and over 2,000 American lives were lost. In December 1942, my grandfather was drafted and sent to Fort Lewis in Tacoma for two weeks, then for training in the Mojave Desert. After several months he was sent to Bristol, England to join with the hundreds of thousands of American GIs sent there for the planned invasion of France. (An acronym for General Issue, the term GI was applied, mockingly at first, to refer to American enlisted personnel, as if they were standard Government issue, no different than the beans they ate, the uniforms they wore, or the tents they slept in.) The ship he traveled on, a luxury liner before the war, had been hastily converted to be a troop transport. The ship was converted to carry as many troops as possible, and nothing of the ship's former luxury remained. My grandfather said he and the people on board the ship were "crammed like sardines". Twenty-nine Navy warships escorted his ship across the Atlantic to Bristol.
My grandfather served in the Fourth Armored Division of General George S. Patton's American Third Army. The Fourth Armored Division, under the command of Maj. General John S. Woods, consisted of tanks, artillery, and infantry. The Fourth Armored Division landed at Utah Beach in Normandy, France on July 11 - 16, 1944 (five weeks after the June 6, 1944 Allied "D-Day" invasion of the European Continent). My grandfather worked in "G-2" (Army Intelligence) in the division headquarters. G-2 gathered and presented critical ongoing intelligence on existing battles and future military campaigns.
Throughout their campaign, Patton's Third Army executed a bold strategy that emphasized a constant offensive against the German army. Utilizing the Fourth Armored Division as their "spearhead", the American Third Army swept across northwest Europe. In December 1944, the Fourth Armored Division played an important role in stopping a major German counteroffensive in Bastogne, Belgium. This was a turning point in the war known as the "Battle of the Bulge", and is recognized as one of the most outstanding military achievements of World War II. On December 26, 1944, the Fourth Armored Division relieved the trapped American One Hundred and First Airborne Division where the main east-west roads converged at Bastogne. After this victory, the Fourth Armored Division was honored for extraordinary heroism and gallantry in assisting the defeat of the German Army. On March 22, 1945, the Fourth Armored Division became one of the first Allied forces to cross the Rhine River, which represented an important western geographical border for Germany. They were also among the first Allied forces to liberate Allied prisoners of war, and to free political prisoners held in German concentration camps.
When the war ended, my grandfather was in Czechoslovakia. He was sent to France where he took a ship to New York, and from there he took a plane to Seattle where he got his discharge orders. The country was celebrating the return of the soldiers and the end of the War. He was very grateful to be alive and happy to be reunited with family and friends. His years as a soldier left him believing that while war is senseless, nevertheless defending freedom is absolutely necessary. He believes that Hitler impacted the 20th Century more than any other individual: so many people's lives were changed completely by World War II, and millions of lives were lost worldwide.
After the war, Congress enacted the GI Bill, which encouraged returning GI's to pursue advanced education at government expense. This far-reaching act had the effects of reducing the high level of unemployment caused by the rapid discharge of millions of servicemen and greatly increasing the value of the county's labor pool. My grandfather said he never would have had the chance to go to college were it not for the GI Bill. He enrolled in Seattle University and, at the same time, returned to his old job at Marine Hospital. Afterwards, he became an ambulance driver, with a salary of $2000 a year. While working at the hospital, he met my grandmother, Arleen Kohlman, a nurse there. They were married in 1948. After college, my grandfather was accepted into a School of Hospital Administration in Washington D.C. Shortly before they were to move to the East Coast, my grandfather confided to my grandmother his real desire to be a doctor and she strongly encouraged him to fulfill his dream. He studied hard, earned great grades, and finished pre-med. in two years. Since my grandmother's dad was sick in Wisconsin, he elected to attend medical school at Marquette University so that they could be near him.
After medical school, my grandfather practiced medicine as a family doctor in Spokane. He and my grandmother bought a house and raised a family in Spokane. Today, they are in their 80's and live in a beautiful house. They enjoy playing golf, playing cards with their bridge groups, and being with their friends and family.
Frank Joseph Morton lived during a remarkable period of history which impacted his opportunity to achieve a fulfilling career and instilled strong moral values. My grandfather has led his life by the philosophy that "less is more". He is a man of few words, and prefers the idea of "show me" rather then "tell me". He has taught me that faith, love of family, honesty and humility are cornerstones of good character. He also believes strongly in working hard in school and obtaining a good education, because it gives a person the freedom of more career choices. I am proud to call him my grandfather, my mentor, and my friend.