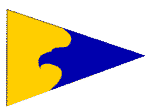 | | |
| --- | --- |
| HOME PAGE | Short term moorage for a "day visit" is available at the public dock and is within walking distance of town. Pump-out facilities are available. There is no fuel available in Eagle Harbor. Other transient moorage is available at the Winslow Wharf - 206-842-4202 and Eagle Harbor Marina - 206-842-4003 |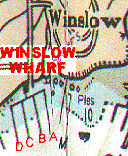 Reciprocal Moorage: For reciprocal moorage information contact Winslow Wharf Marina,
206-842-4202 or VHF Ch. 9, between the hours of 9AM to 5PM. After 5PM, tie up at the end of B dock and contact the evening dock master at slip B42. Even numbered slips are on the West side of the piers and the odd munbers are on the East side. Numbering starts at the shore end of the piers.
More information about the community of Bainbridge Island can be found at: www.bainbridgeisland.org
Navigation Warnings
Stay to the channel markers if you are not familiar with the tides and shoals. Use your charts.
Watch out for a large shoal

that extends out east & south from Wing Point, terminating at the red nun (No.2) at the mouth of Eagle Harbor.

There is a mud flat extending out into Eagle Harbor from the south shore just inside the mouth of the harbor, Creosote point. The flat starts at green 1 and is inside of markers green 3 & 5. This area has been "capped" by the EPA as part of a clean-up project and is now very shallow at low tides and is designated by the Coast Guard as a "NO ANCHOR ZONE". See "CFR 165.1390" or click here for the short graphic version.
Watch out for ferry traffic in Eagle Harbor, they run at approximately 45 minute intervals during the day.