Bainbridge in Bloom Garden Tour
July 12 & 13, 2003.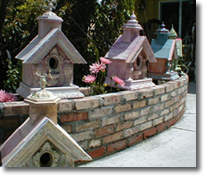 Spend the day exploring six magnificent gardens on Bainbridge Island. Enjoy lectures, luncheons, arts fair, book & plant sale.
Tickets can be purchased from Bainbridge Island Arts & Humanities Council.
Bainbridge in Bloom, recognized as one of the most complete and diverse garden tours in the Northwest, is coming Saturday, July 12th and Sunday, July 13th, 2003, with Patron Preview on Friday, July 11. American Marine Bank is 2003's presenting sponsor. New this year will be a special Children's Garden, scheduled for Wednesday, July 9th.
Other events and happenings during the tour:
- An Art Fair of unique garden art from local artists
- A Lecture Series featuring high profile and local garden experts, sponsored by Bainbridge Gardens
- A Book Sale merchandised with cutting edge and classic garden titles
- A gourmet Luncheon of sumptuous cuisine
- A Plant Sale where even the savviest of gardeners will be tickled by the selection

An exclusive and private Patron Preview fundraising event allowing Patron ticket holders to experience Bainbridge in Bloom the day before the Tour opens to the public

The Marketplace again returns! Hand-selected vendors will showcase and sell their garden related products such as all-natural bath products, organic culinary delights, designer compost, natural fiber clothing and more
More information can be found at: http://www.gardentour.info
Charge by Phone: 206-219-3182
Information: 206-842-7901

If you are visiing from out of town the following information will be of use to you:
Bainbridge Island is reached by the Seattle-Bainbridge Is. ferry from Seattle
(click here for schedule information)
or from the Olympic Peninsula via the Agate Pass Bridge.
If you are looking for places to eat visit our Dining Guide
If you are needing a place to stay visit our Lodging Directory
Other visitor information can be found in the
vistor section
and if you are interested in a little shopping visit our
business section
.